A stay to discover
the most beautiful places in Savoie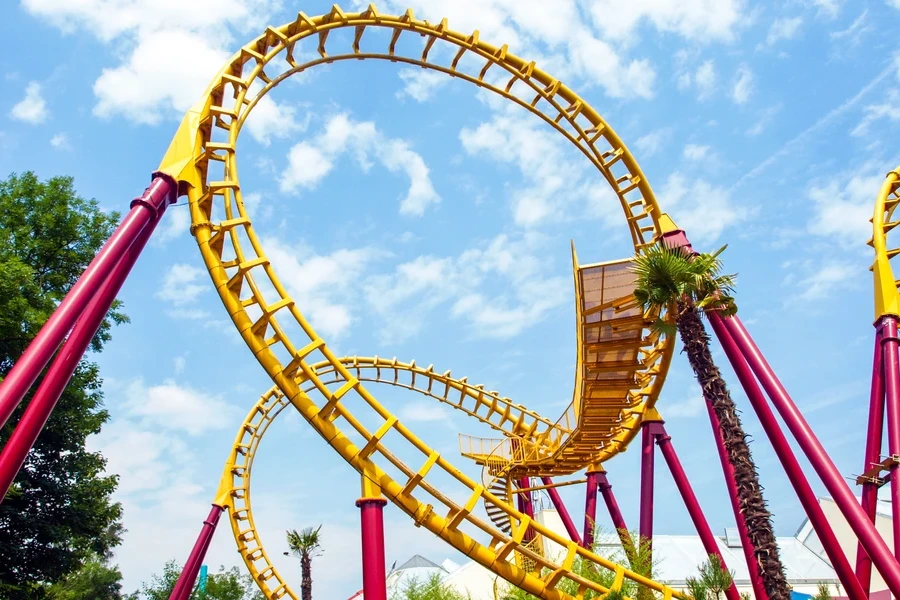 A family day in Walibi
Tourism in Savoie, it wins you! Take advantage of your holiday at the campsite near Lake Aiguebelette to spend a family day in Walibi.
Amusement park in Savoie, Walibi is part of the must of tourism in Savoie for young and old! Go back to childhood and discover Walibi: a day filled with both strong emotions and guaranteed laughter!
Hang on to the thrill rides Timber, Mystic, The Totem, Generator. Your children will certainly love Les P'tits Chaudrons, Balloon Race or Le Petit Vapeur (Little Steam). And to share extraordinary moments with your family, you can try Melody road, Festival Station or La Coccinelle.

For a day in Walibi, go from April 5, 2023 to January 7, 2024, from 10am to 6pm or 7pm.
We offer 5% discount to guests for stays of 2 to 3 nights (accommodation or pitch). Ticket sales on site.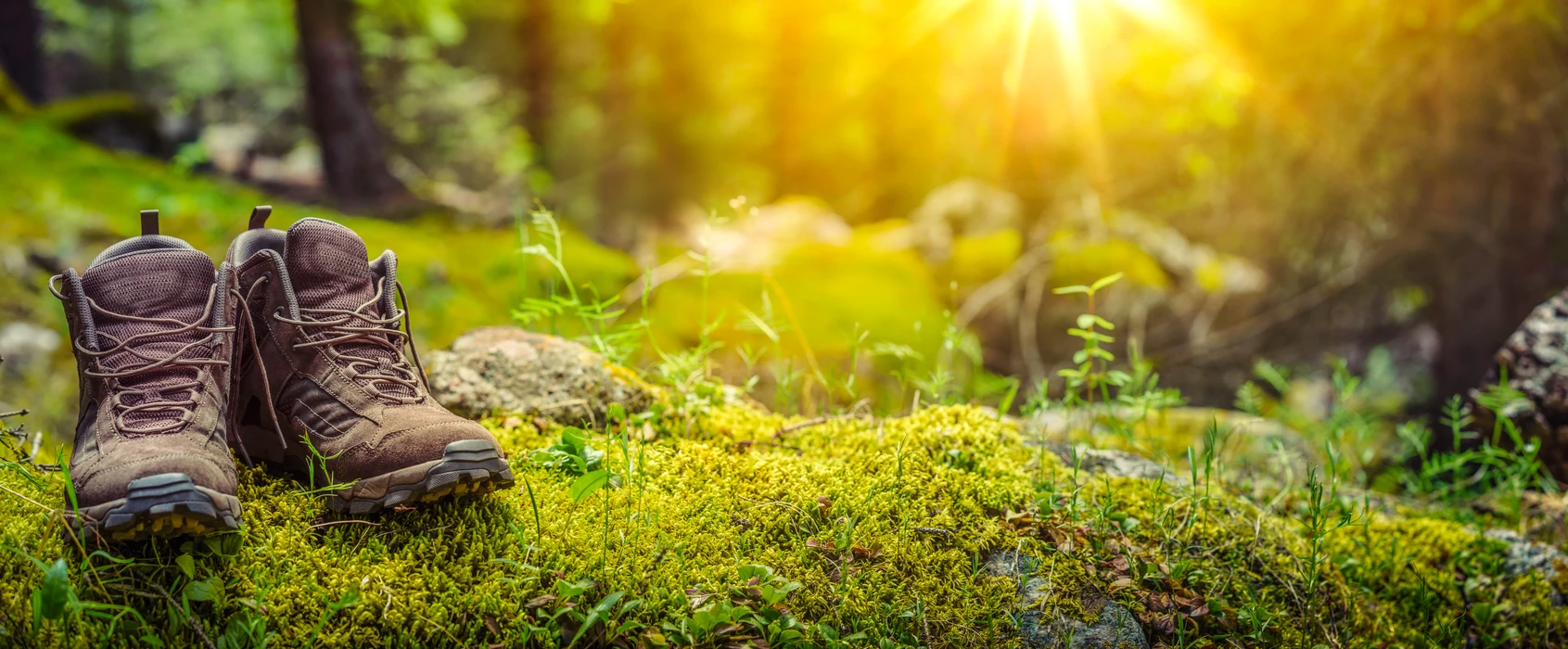 The best sports activities near the campsite in Savoie
Do you like thrills ? There are all kinds of sports activities to do in Savoie!
Invent an exciting holiday by testing sports activities that you do not have the opportunity to spend the rest of the time: canoeing, rafting, via ferrata, paragliding, mountain sports activities, escape game, water activities on lakes, cycling and hiking in the mountains.
Sightseeing in Savoie near the campsite Les Bords du Guiers means discovering new emotions and new landscapes. Make your holiday in Savoie invigorating and rejuvenating!
Fish at Lake Romagnieu 5 minutes from the campsite. This spot is idyllic for carp and predator lovers. You can also fish on the Rhone River, a vast fishing territory passes 2 km from the campsite.
To discover in Saint-Genix-sur-Guiers
The Louis Mandrin Lair : To live a smuggling adventure in the eighteenth century. An interactive and fun journey to meet Mandrin, enter his troops… and maybe get his treasure map! Entrance through the Tourist Office.
The circuit of the City of Cake : A treasure hunt in the village to discover the local heritage. A parchment to fill and a cake recipe to complete. The smartest will be rewarded. On sale at the Tourist Office of St Genix sur Guiers.
Cheeses, market, beers and wines : Producers are present in the village.

ViaRhôna: From St Genix sur Guiers, you can reach the ViaRhôna, a bike lane along the Rhône between Switzerland and the Mediterranean. Map available at the campsite reception.

Tourist Office Pays du Lac d'Aiguebelette : The Tourist Office present in the village will welcome you with pleasure and will offer you a personalized and more extensive offer.

Tourist office of the tooth of the cat: The tourist office is present in the town of Yenne.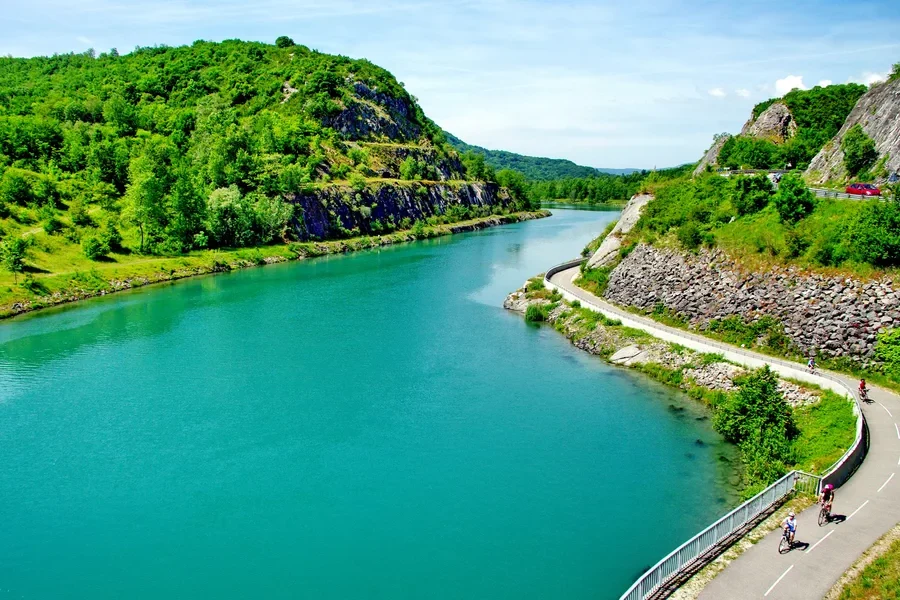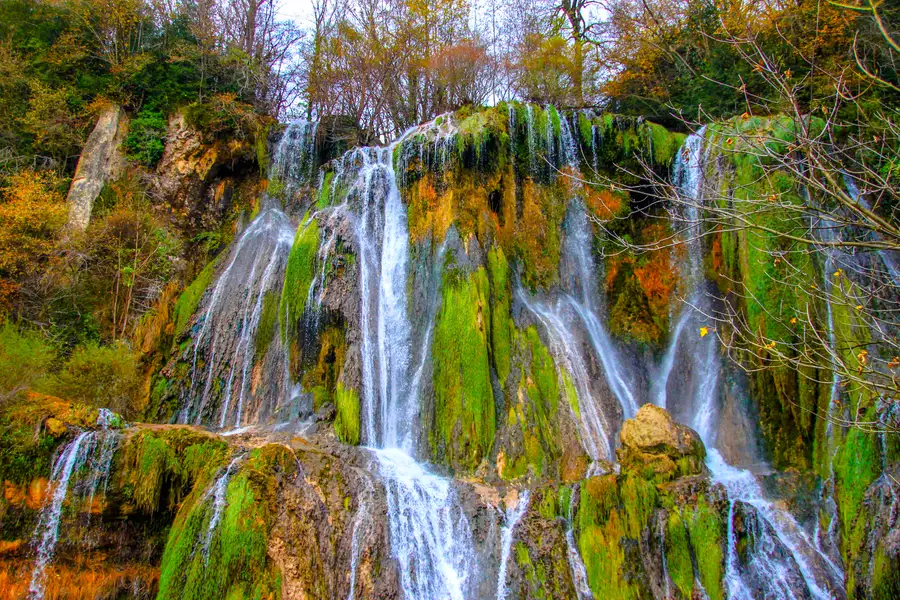 Heritage and discoveries
Château d'Avressieux: 5 km from St Genix sur Guiers, the Château de Montfleury contains an impressive number of collectibles: weapons and armour, archaeology, bicycles, ancient agricultural objects. For family visits, there is a children's visit booklet on sale at the reception.
Phone : 04 76 32 92 71
Glandieu Waterfall : Located in the Ain, in Glandieu, this pretty little waterfall offers a little freshness in hot weather.
The Domaine des Fauves, the bird park, the Galletti Radio Museum, the Balme caves are all sites to visit nearby.

The cities of Chambéry, Lyon and Annecy will make you discover an extraordinary heritage.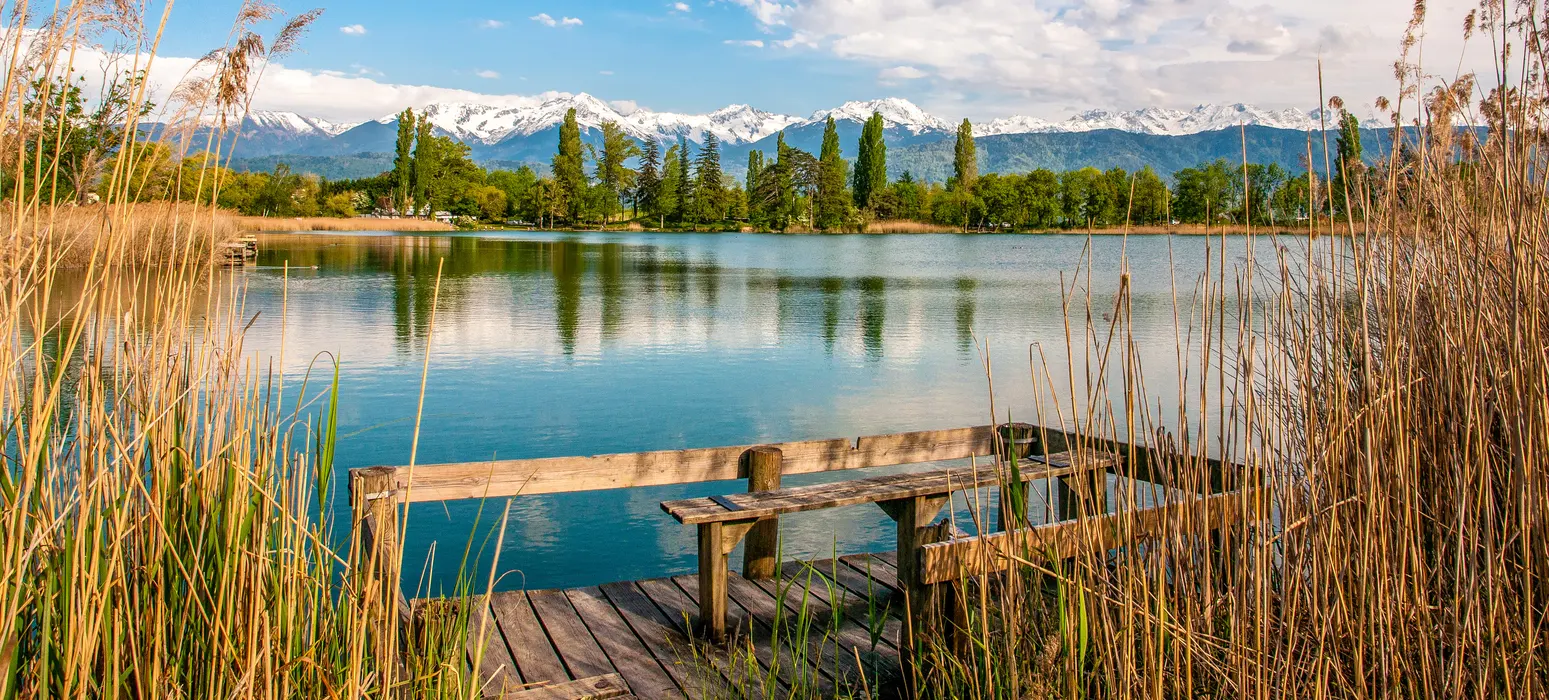 In the Land of Lakes
Lake Aiguebelette at 20 km: Do you want to discover unusual places or go on an excursion in the vicinity of Lake Aiguebelette? The must-see sites of the territory open their doors to you.
Lac du Bourget at 43 km: Largest lake in France with its 18 km long. Lake Bourget is surrounded by the Epine massif, Mont du Chat, Chambotte, Mont Revard and Les Bauges.
Lake Annecy at 60 km: One of the purest lakes in Europe, Lake Annecy is one of the major tourist destinations in the Alps. In summer, there are many activities. Take the opportunity to visit one of the most beautiful cities in France.
Discover Lake Aiguebelette
During your stay in Savoie, do not miss Lake Aiguebelette, a little gem that nature offers you.
With an area of 545 hectares, Lake Aiguebelette is a natural lake located near Chambéry, at the bottom of the Montagne de l'Épine. You will certainly be seduced by the color of its turquoise waters. A real gift for bathers and fishing enthusiasts.
In a remarkable natural setting, this Lake Savoie is the ideal place to indulge in many water sports and relaxation. And yes! In summer, sit on one of its supervised beaches and enjoy the pleasures of swimming in water whose temperature can climb up to 28 ° C !

The surroundings of Lake Aiguebelette are an invitation to tourism in Savoie: walks, discovery of nature, panoramas. A magical place for everyone!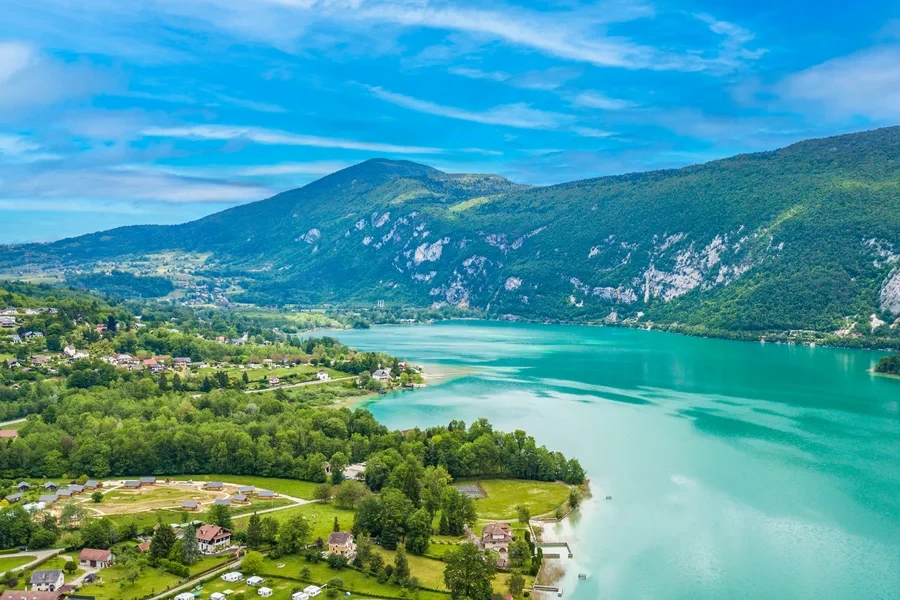 See bike camping, swimming pool and campsite activities